Sandstone consists usually of quartz, silica, iron oxide and calcium carbonate. These stones are durable, weather, acid and thermal resistant and have crushing strength. They come in many colors, shades.
Cobbles of Sandstones are also very popular.
Products available in Slabs, Tiles Blocks and Steprisers

Dholpur Beige, Agra Red, Bansi Pink, Fossil, Panther, Tint Mint, Rainbow, Chanderi Pink, Lalitpur Grey, Lalitpur Yellow (Camel Yellow), Teakwood, Kandla Grey, Modak, Mandana, Raveena, Raj Green, Autumn Brown

General Sizes available Undersize (In cms)

Undersize :28 x 28, 42x42, 28 x 56, 56x56, 56x84, 56 x 112
Oversize : 30 x 30, 45x45, 30 x 60, 60x60, 60x90, 60 x 120

Thickness

10-20 mm, 20-35 mm

Finish

Natural Cleft both faces , One side Honed, Both sides Honed, Hand Cut/Machine Cut/Gangsaw Cut, Polished, Mirror Finish, Calibrated, Bullnosed, Rivetted

Packing

Wooden Crates (See FAQ)

Variation

| | |
| --- | --- |
| Thickness | +/- 1 cm |
| Dimension | +/- 2 mm |
| Color/Surface | There is natural color variation. Some stones have uneven surface. |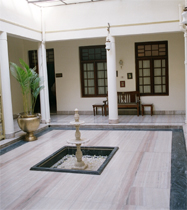 Sandstone is sedimentary, but unlike limestone which is shell and bones, sandstone is most famous for its characteristic. Sandstone can also contain some of the materials found in granite, which makes some sand stone iridescent and/ or hard.