The common colors are blue, grey, black, brown, and green.
Products Available

Kota Blue, Kota Brown, Cuddapah Black, Lime pink, Lime Green, Shahbad Yellow

Sizes available (In cms)

30x30, 40x40, 30x60, 40x60, 60x60, 50 x50, 55x55,60x90 Flag stones.

Thickness

10-22mm, 20-30 mm, Calibration in 12 mm.

Finish

Natural Cleft both faces , One side Honed, Both sides Honed, Hand Cut/Machine Cut/Gangsaw Cut, Polished, Mirror Finish, Calibrated

Packing

Wooden Crates (See FAQ)

Variation

| | |
| --- | --- |
| Thickness | +/- 1 cm |
| Dimension | +/- 2 mm |
| Color | There is natural color variation. |

Cobbles of limestones are very popular.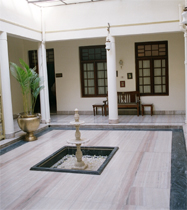 Sandstone is sedimentary, but unlike limestone which is shell and bones, sandstone is most famous for its characteristic. Sandstone can also contain some of the materials found in granite, which makes some sand stone iridescent and/ or hard.

---

---
Copyright © Aaren Stones & Granites Pvt. Ltd. All Rights Reserved