CHIPS
Chips find application in Pathways, Borders, poolside and very rugged and aesthetic and durable. These are sold in metric tons.
Granite & Marble Chips


Sizes
1-3/3-6/6-12 mm (Also referred as 103, 306 and 612)
Colour :
Red Tumbled Chips
Pink Rose Granite Tumbled Chips
White Granite Chips
Red Granite Chips
Rose Granite Chips
Pink rose Granite Chips
Yellow Granite Chips
Blue Granite Chips
Black Granite Chips
Rose Pink Marble Chips
Light Green Marble Chips
Deep Green Marble Chips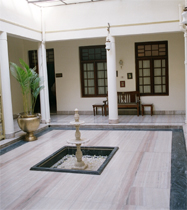 Pebbles are small roundish Stones which could be either machined or natural. Machined Pebbles are costly than natural and both are sold per metric ton. Pebbles are used as decorative stones and come in various hues and sizes and find usage in homes, artificial ponds, fountains, posh lounges, open air theatres, aquaria, parks, out houses and gardens.

---

---
Copyright © Aaren Stones & Granites Pvt. Ltd. All Rights Reserved